Horoscopes
Horoscope for the weekend of June 17-18: the stars promise inspiration to three zodiac signs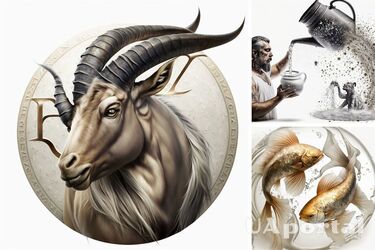 UAportal has prepared a horoscope for Capricorn, Aquarius and Pisces for the weekend of June 17-18. The forecast sheds light on creative and inspirational ways this weekend.
Capricorn.
Under the influence of the Moon in Capricorn, people born under this sign can expect a surge of creativity and inspiration this weekend. A celestial symphony will awaken their creative spirit, calling them to embark on endeavors that will breathe life into their imagination.
Capricorns may find themselves drawn to various forms of self-expression, whether it's painting, writing, or even exploring new paths of self-discovery. The cosmos blesses them with an abundance of inspiration, allowing them to create and share their unique vision with the world.
Aquarius.
With the North Node in Aquarius, this weekend promises an extraordinary influx of creative energy for those born under this sign. The universe is aligning in their favor, offering an unprecedented opportunity to explore uncharted territories of inspiration.
Read also: Travel and adventure await three zodiac signs this summer
Aquarians may find themselves immersing in avant-garde art forms or engaging in thought-provoking conversations that push the boundaries of their creativity. This celestial conjunction will ignite their innovative spark, encouraging them to fearlessly express their ideas and make a lasting impact on the world around them.
Pisces.
Under the guidance of the South Node in Pisces, people belonging to this intuitive water sign can expect an out-of-this-world journey of creativity and inspiration this weekend. The cosmos will give these people a deep connection to their innermost emotions, allowing creativity to flow freely like a serene river.
Pisces can find solace in artistic endeavors such as music, poetry, or dance as they channel their emotions into mesmerizing creations. Their celestial location gives them the opportunity to explore the depths of their souls and reveal their creative skills to the world.
As reported by UAportal, earlier astrologers named the two most evil zodiac signs that are capable of terrible revenge.
If you want to get the latest news about the war and events in Ukraine, subscribe to our Telegram channel!