Horoscopes
Horoscope for the weekends of June 17-18: three zodiac signs should devote time to family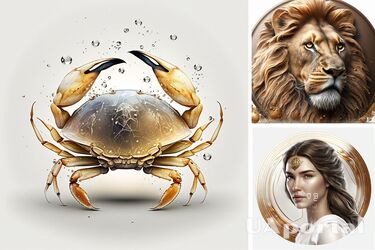 For the weekend of June 17-18, UAportal has prepared individual horoscopes for Cancer, Leo, and Virgo that shed light on the family matter. Find out how heavenly forces can affect the ties that bind us to our loved ones.
Cancer.
Under the influence of Jupiter in Cancer, this weekend will bring blessings to those born under the sign of Cancer. Family ties will be strengthened as success and harmony will penetrate the home sphere. Whether it's a heartfelt reunion or a cozy get-together, Cancerians will find themselves surrounded by loved ones, creating cherished memories.
The celestial location favors Cancer's emotional stability, allowing them to overcome any family difficulties with grace and compassion. This weekend is a good time for Cancers to deepen their bonds and bask in the warm embrace of family love.
Leo.
Saturn in Leo sets the stage for a weekend filled with happiness and joy in the family. Leo's charismatic energy radiates, drawing loved ones closer than ever before. Their natural leadership skills come to the fore as they take charge of family affairs, organizing memorable events and strengthening the sense of togetherness.
Read also: 2023 will be the best year ever for three zodiac signs
Heavenly forces instill a sense of responsibility in Leo, encouraging them to create a harmonious atmosphere at home. This weekend, Leo will have heartfelt conversations, moments full of laughter, and a new appreciation for the ties that bind them to their families.
Virgo.
Uranus in Virgo will bring a weekend of unexpected surprises and wonderful moments in the family sphere. Virgos will be at the center of dynamic and transformative family interactions. The celestial placement awakens Virgo's sense of adventure, encouraging them to explore new ways of connecting with loved ones.
This weekend, Virgos will have the opportunity to take part in creative family projects, go on spontaneous outings, or start open and honest conversations. By embracing the unexpected, Virgos will witness the growth and evolution of their family relationships, which will bring them a sense of joy and satisfaction.
As UAportal reported, earlier astrologers named the two most evil zodiac signs that are capable of terrible revenge.
If you want to get the latest news about the war and events in Ukraine, subscribe to our Telegram channel!