Horoscopes
April 28 horoscope for Virgo, Leo and Cancer: be confident in your abilities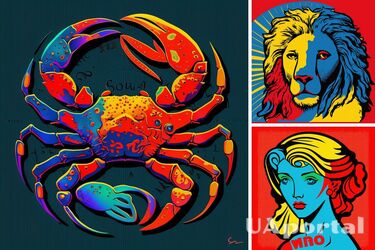 UAportal has prepared individual forecasts for Cancer, Leo, and Virgo for April 28. This Friday, it's important to focus on relationships.
Cancer.
Cancer, on April 28, the stars indicate the potential for creative inspiration and self-expression. This is a good time to explore your creative side and engage in activities that allow you to express yourself. Be open to new experiences and trust your intuition.
Embrace positive emotions and let them guide your actions throughout the day. Focus on what brings you joy and add this positive energy to your interactions with others.
Leo.
Leo, the stars suggest that you may feel a strong desire for love and affection on April 28. This is a good time to focus on your relationships and deepen your connections with the people around you. Be open and vulnerable with your loved ones and you may find that it brings you closer together.
Read also: Three zodiac signs will be Successful in May
If you are in a relationship, focus on strengthening that bond and show your partner how much you care about them. If you are single, keep an open mind and be receptive to new connections.
Virgo.
Virgos, the stars indicate that this day could bring opportunities for success and recognition. Trust your instincts and take risks when necessary to achieve your goals. Be confident in your abilities and believe in yourself.
Stay open to new opportunities and be willing to take on a challenge that may be outside your comfort zone. With hard work and determination, you may be surprised at what you can achieve.
As UAportal reported earlier, astrologers have named the two most evil zodiac signs that are capable of terrible revenge.
If you want to get the latest news about the war and events in Ukraine, subscribe to our Telegram channel!