Horoscopes
Capricorn, Pisces and Aquarius horoscope for June 26: strengthen your relationship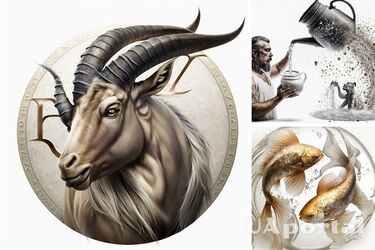 In the field of astrology, June 26 has great potential for Capricorn, Aquarius and Pisces. UAportal has prepared a detailed analysis of their horoscopes.
Capricorn.
Capricorns can be immersed in the world of creativity. Their artistic inclinations are sharpened, and the energy of imagination knows no bounds. On this day, Capricorns can turn their unique perspective to various artistic endeavors, whether it's painting, writing, or even exploring new musical styles. The realization of their artistic talents will not only bring joy, but can also lead to unexpected opportunities for personal growth.
Capricorns may face the opportunity to lend a helping hand to others. Their compassionate nature and willingness to support those in need can make a big difference in someone's life. By sharing their experience or offering to listen, Capricorns can have a positive impact and strengthen their relationships. The act of selflessly helping others will be a rewarding experience for Capricorns.
Aquarius.
Aquarians can finally embark on an intuitive journey. This is a day for deep introspection and accessing your inner wisdom. Aquarians may find themselves drawn to spiritual practices, meditation, or any form of introspection. Trusting your instincts and intuition can lead to profound discoveries and deeper self-awareness.
Read also: Travel and adventure await three zodiac signs this summer
Aquarians are advised to prioritize their health and well-being. Engaging in activities that promote physical and mental health will bring them a sense of balance and rejuvenation. Whether it's a yoga class, a peaceful walk in nature, or a nourishing self-care routine on this day, Aquarians will benefit from prioritizing their personal well-being.
Pisces.
Pisces will be on the path to achievement. This is the day when their dreams and aspirations come to the fore. Pisces are encouraged to set their intentions and work hard to achieve their goals. Whether it's moving up the career ladder, getting an education or realizing creative ideas, Pisces can make great progress. Their determination and dedication to their work will bring their dreams closer to fruition.
Pisces may encounter favorable circumstances that will help advance their goals. Keeping their focus and positive attitude, they will be able to overcome any obstacles that come their way. Seeking advice from mentors or participating in joint activities can further increase their chances of success.
As UAportal reported earlier, astrologers named the two most evil zodiac signs that are capable of terrible revenge.
If you want to get the latest news about the war and events in Ukraine, subscribe to our Telegram channel!