Horoscopes
April 26 horoscope for Pisces, Capricorn and Aquarius: keep moving forward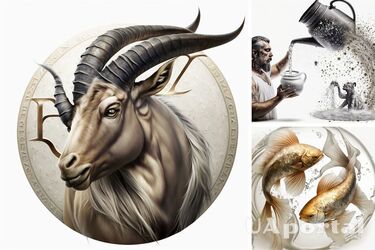 UAportal has prepared a horoscope for April 26 for Capricorn, Aquarius, and Pisces. On this day, you should trust your intuition and try new experiences.
Capricorn.
Capricorn, on April 26, you may find yourself drawn to new creative endeavors. Your intuition is strong and you may have sudden insights into new projects or ideas. This is a good day to take risks and try something new.
You may encounter unexpected opportunities or people. Be open to new experiences and you may be pleasantly surprised by what opens up in front of you.
Aquarius.
Aquarius, you may face some setbacks on April 26. However, it's important to keep a positive attitude and keep moving forward. Don't let obstacles discourage you from achieving your goals.
Also read: April will bring great luck to three zodiac signs
Instead, use them as an opportunity to learn and grow. Take a step back, reassess your approach, and try again.
Pisces.
Pisces, on April 26, you may find your wishes coming true. Your creative and intuitive energy is at a high level, and unexpected opportunities may present themselves to you.
However, be careful not to become overconfident. Keep pushing yourself to grow and achieve more.
As UAportal reported earlier, astrologers have named the two most evil zodiac signs that are capable of terrible revenge.
If you want to get the latest news about the war and events in Ukraine, subscribe to our Telegram channel!