Horoscopes
April 25 horoscope for Pisces, Capricorn and Aquarius: be patient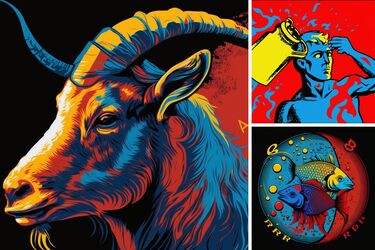 UAportal has prepared a horoscope for April 25 for Capricorn, Aquarius, and Pisces. On this day, it is important to reflect on past experiences.
Capricorn.
Capricorn, this is a good day for personal growth and development. It's time to reflect on your past experiences and use them to make positive changes in your life. Trust your intuition and take calculated risks to achieve your goals. Remember to stay grounded and be patient, success takes time.
Don't be afraid to step outside your comfort zone and try something new. Be open and receptive to feedback, it will help you grow.
Aquarius.
You may deal with unexpected situations or meet new people who can change your outlook on life. Embrace these encounters and be open-minded. Remember to stay true to yourself and don't compromise your values.
Also read: April will bring great luck to three zodiac signs
Spend some time processing new information and evaluating how it aligns with your goals and principles. Don't rush to do anything without careful consideration.
Pisces.
You may encounter some setbacks, but don't let them get you down. Focus on your goals and stay optimistic. Your creativity and intuition will help you find new solutions to any problems you face.
Don't give up on your goals, but be prepared to adjust your approach when necessary. Stay positive and maintain the desire for growth.
As reported by UAportal, earlier astrologers named the two most evil zodiac signs that are capable of terrible revenge.
If you want to get the latest news about the war and events in Ukraine, subscribe to our Telegram channel!