Horoscopes
June 21 horoscope for Pisces, Aquarius and Capricorn: embrace the surge of inspiration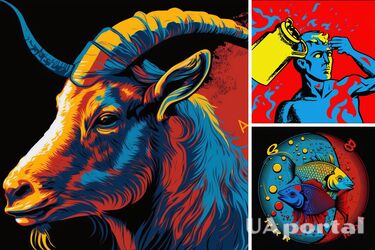 In astrology, the movement of celestial bodies is of great importance. UAportal has prepared a horoscope for June 21 for Capricorn, Aquarius, and Pisces.
Capricorn
Capricorn, the universe is inviting you to show your innate determination and practicality. Focus on your goals and take confident steps to achieve them. Your unwavering approach will lead to fruitful results. Use your disciplined nature to cope with any difficulties that come your way. Take this day with resilience and let your perseverance lead you to success.
Capricorns may experience a turning point in their relationships. Open yourself up to sincere connections and allow your vulnerability to show. Take the initiative to clear up misunderstandings and establish deeper connections with loved ones. Trust your intuition in matters of the heart, and it will guide you to create genuine relationships.
Aquarius
Aquarius, you are surrounded by a wave of fresh energy. It's the perfect time to explore new opportunities and implement out-of-the-box ideas. Trust your intuition and let your pioneering spirit guide you. Engage in creative endeavors that will spark your curiosity and inspire others. Embrace the day with an open mind and be receptive to unexpected opportunities that may arise.
Also read: Travel and adventure await three zodiac signs this summer
When it comes to relaxation, Aquarians are offered moments of respite. Find solace in activities that bring you joy and allow you to recharge your batteries. Take time for self-care and indulge in rejuvenating practices. Whether it's practicing a favorite hobby or just a quiet moment of solitude, prioritize your well-being and enjoy the peace of the day.
Pisces
Pisces, the cosmos endows you with heightened intuition and sensitivity. Trust your inner guidance and discover your empathetic nature. Your creativity is at its peak, making this a good time to pursue artistic endeavors or fantasies. Allow your inner energy to guide you through life and express your feelings through creativity.
Creative inspiration will flow in abundance for Pisces. Your mind will be fertile with innovative ideas, and you will find yourself easily turning your visions into reality. Embrace this burst of inspiration and let it shape your day. Engage in activities that feed your imagination and bring you joy. Embrace the unknown and allow your creative expression to blossom.
As UAportal reported earlier, astrologers have named the two most evil zodiac signs that are capable of terrible revenge.
If you want to get the latest news about the war and events in Ukraine, subscribe to our Telegram channel!