Horoscopes
June 16 horoscope for Aquarius, Capricorn and Pisces: don't make hasty moves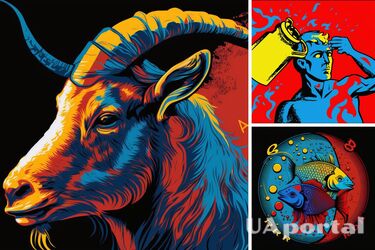 UAportal has prepared horoscopes for June 16 for Capricorn, Aquarius and Pisces. On this day, you need to be extremely careful with your finances.
Capricorn
Capricorn, as the sun rises, embrace the creative energy that surrounds you. The universe is beckoning you to explore your creative side and express yourself freely. Engage in activities that spark your imagination and bring joy to your soul. Whether it's drawing, writing, or experimenting with a new hobby, let your creativity flow freely.
Capricorn's creative endeavors raise the question of whether positive changes are in store for you. The answer lies in your willingness to embrace new experiences and step out of your comfort zone. Be open to the opportunities that come your way, even if they seem unconventional or different from what you're used to. Trust your instincts and believe in yourself. Embracing change will pave the way for personal growth and transformative experiences.
Aquarius.
Aquarius, the universe is showering you with its favorable financial influence. It's a day to focus on your monetary goals and explore ways to financial success. However, it is important to approach your endeavors with caution and careful planning. Evaluate your financial decisions wisely and seek expert advice if necessary. With the right strategies and a disciplined approach, you can make great strides in realizing your financial aspirations.
Read also: Travel and adventure await three zodiac signs this summer
The key to success lies in your ability to make smart financial choices and stay committed to your goals. Avoid impulse spending and favor long-term financial stability. Staying grounded and aware of your financial decisions will help you attract abundance and build a solid foundation for your future.
Pisces.
Pisces, as you navigate the day, the universe provides you with opportunities for personal and professional growth. Adopt a mindset of continuous learning and self-improvement. Seek out experiences that will broaden your horizons and add to your knowledge. Whether it's attending seminars, engaging in intellectual discussions, or exploring a new area of interest, be receptive to the transformative power of growth. By investing in yourself, you will open up new opportunities and achieve significant personal development.
The right decision is your willingness to step out of your comfort zone and take on new challenges. Be proactive in finding opportunities that match your aspirations. Trust your intuition and take calculated risks if necessary. By embracing the unknown and venturing into uncharted territories, you will embark on a transformative path of growth and self-discovery.
As UAportal reported earlier, astrologers have named the two most evil zodiac signs that are capable of terrible revenge.
If you want to get the latest news about the war and events in Ukraine, subscribe to our Telegram channel!