Horoscopes
June 16 horoscope for Gemini, Aries and Taurus: look for new perspectives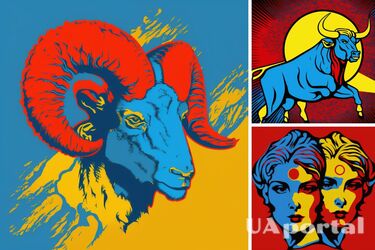 UAportal has prepared a detailed overview of planetary movements and combinations for June 16 for Aries, Taurus and Gemini. On this day, it is important to believe in yourself.
Aries.
Aries, the Universe is calling you to tap into your innate creativity and unleash your creative potential. Take advantage of your passionate nature and explore different types of art that resonate with your soul. Being creative will not only ignite your inspiration, but also give you the outlet you need to express yourself. Trust your intuition to guide you to a fulfilling experience and allow yourself to be open to the wonders of the world around you.
When it comes to love matters, Aries, the cosmic energy indicates the potential for deep emotional connections. If you are single, be open and allow yourself to be vulnerable. Love can show up unexpectedly, bringing joy and a sense of fulfillment. For those in a relationship, strengthen the bond by engaging in sincere conversations and discovering new common interests. This day offers fertile ground for the development of love and harmony.
Taurus.
Taurus, the celestial bodies urge you to believe in yourself and seize the opportunities that come your way. The universe gives you the opportunity to succeed in your endeavors, especially those related to your career or personal goals. Use your determination and focus on achieving your goals. With dedication and hard work, you will be able to overcome any difficulties that may arise and achieve significant success.
Read also: Travel and adventure await three zodiac signs this summer
In terms of success and recognition, Taurus, this day carries the potential for worthy achievements. Your dedication and perseverance will be rewarded as you make significant progress towards your plans. Take advantage of your ambitious nature and step into the spotlight with confidence. Remember to take a balanced approach and stay still in the face of your achievements.
Gemini.
Gemini, the cosmos is inviting you to embrace your adaptive nature and start a day of personal development and growth. You have the opportunity to broaden your horizons and deepen your knowledge. Engage in intellectual pursuits, seeking out new perspectives and exploring those that capture your curiosity. Gaining such experiences will contribute to your personal growth and allow you to discover hidden talents and abilities.
The energies around you also support significant connections with other people, Gemini. Develop your communication skills and engage in heart-to-heart conversations. By expressing your thoughts and emotions sincerely, you will deepen your relationships and make new connections. Be open to cooperation and partnerships, as they can bring unexpected opportunities for growth and self-realization.
As reported by UAportal, earlier astrologers named the two most evil zodiac signs that are capable of terrible revenge.
If you want to get the latest news about the war and events in Ukraine, subscribe to our Telegram channel!