Horoscopes
June 12 horoscope for Aquarius, Capricorn and Pisces: trust life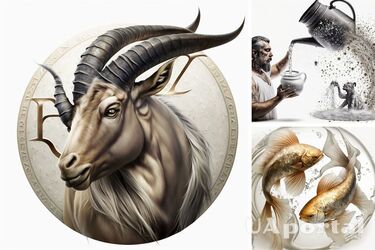 UAportal has prepared an astrological chart for June 12 for Capricorn, Aquarius, and Pisces. This Monday, you need to pay attention to the desires of your heart.
Capricorn
Capricorn, the Universe invites you to explore your artistic inclinations and freely express creative ideas. The position of the planets enhances your ability to think outside the box and find innovative solutions to any problems you face. Use your imagination and engage in activities that allow your creativity to flourish. Whether it's drawing, writing, or learning a new hobby, trust your unique ideas and let your creative emotions run wild.
The stars are hinting at the possibility of wish fulfillment, dear Capricorn. If you tap into your creative source, the universe can fulfill your heart's desire. Stay open to unexpected opportunities and be receptive to the coincidences that surround you. Your dreams may manifest in surprising ways, so keep your intentions clear and believe in the abundance of the Universe's blessings.
Aquarius
The celestial balance highlights your social connections and encourages you to expand your circle of acquaintances. Embrace your unique qualities and share your ideas with others. Participate in joint activities and explore new social connections. Your ability to inspire and uplift others will increase, leading to significant networking and shared ideas.
Read also: 2023 will be the best year in life for three zodiac signs
The day promises long-awaited change, Aquarius. As you embrace the energy of this time, be prepared for a transformative experience that will help you achieve your goals. Trust in the moment and let go of any resistance. This is a time of growth and positive transformation that paves the way for a brighter future.
Pisces
Your celestial placement invites you to dive deep into your intuition and explore the mysteries of the subconscious. Trust your inner guidance and pay attention to dreams as they contain valuable messages and insights. This is a favorable time for introspection, spiritual searching, and communication with your inner wisdom. Allow your intuition to be your guide and you will get through this day with grace and clarity.
The stars indicate that you should focus on your career. Believe in your abilities and take the necessary steps to grow professionally. Your hard work and dedication will not go unnoticed, and opportunities for growth and recognition may come your way. Stay committed to your goals and seize the opportunities that lie ahead. A career is a promising and rewarding path.
As UAportal reported earlier, astrologers have named two of the most evil zodiac signs that are capable of terrible revenge.
If you want to get the latest news about the war and events in Ukraine, subscribe to our Telegram channel!