Showbiz
5 interesting facts about actress and singer Katy Perry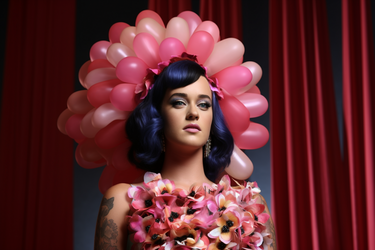 As we celebrate Katy Perry's remarkable career, we take a look at some fascinating details about her life and accomplishments. UAportal has prepared some intriguing facts about the singer.
Versatility beyond music
While Katy Perry is known for her captivating music, her acting career is worth noting. In addition to her musical successes, Perry has showcased her talent in feature films and animated movies. In particular, she lent her voice to the iconic character Smurfetti in the animated film adaptation of The Smurfs.
Perry has also demonstrated her acting abilities in films such as "Exemplary Male 2" and has also appeared in such popular series as "How I Met Your Mother," "American Housewife" and "The Simpsons."
Early career
Determined to pursue her dreams in the world of music, Perry left high school at the age of 15 and at 17 traveled to Los Angeles to begin her music career.
The inspiration behind "I Kissed A Girl."
Among the monumental hits of her career, the inspirational song "I Kissed A Girl" holds a special place in Katy Perry's discography. Surprisingly, the inspiration for this chart-topping sensation was actress Scarlett Johansson. In an interview, Perry candidly admitted that she once shared with her other half, "I'm not gonna lie, if Scarlett Johansson walked into a room and wanted to kiss me, I would kiss her. I hope that's okay with you?"
Record-breaking achievements
Katy Perry's phenomenal achievements have sealed her name in the prestigious Guinness Book of World Records. Among her notable achievements is that she became the first artist to reach 100 million followers on Twitter, a testament to her immense global popularity. Also, in 2015, Perry became the highest paid pop artist in 2015, showing her unprecedented success.
Read also: left school for a career: what else is known about Damiano David
Beating new records, her rousing Super Bowl halftime show drew the largest audience ever, and she joined Michael Jackson's select league when five songs from the same album simultaneously topped the charts.
Songwriting prowess
In addition to her own musical endeavors, Katy Perry's creative finesse extends to writing songs for other famous artists. Her talent has been evident in creating music for influencers such as Nicki Minaj, Ariana Grande, Kelly Clarkson, Selena Gomez and the band The Scene, Britney Spears, and others. Perry's influential contributions have left an indelible mark on the music industry.
Recall, many actors and singers decide to undergo plastic surgery because it's often a necessity for them. We told you how 7 famous men corrected their appearance.
Want to receive the most relevant news about the war and events in Ukraine - subscribe to our Telegram channel!