Showbiz
5 interesting facts about Taylor Swift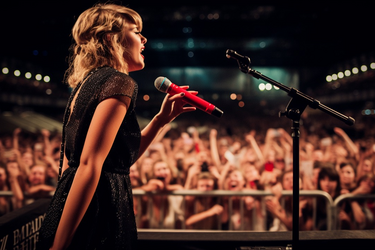 Taylor Swift, a multi-talented artist, has achieved remarkable success. In addition to her numerous awards, there are some fascinating facts that UAportal will tell you about.
Met Gala
Back in 2016, Taylor Swift took on the role of co-chair of this prestigious event known for its extravagant glamor and high-profile attendees. Tickets for the event cost a staggering $30,000 and table seats cost $275,000.
Victoria's Secret Fashion Show
Taylor Swift not only performed at the famous Victoria's Secret lingerie shows in 2013 and 2014, but she was also involved in organizing them. She determined the modeling lineup and socialized with friends who participated in the show.
Read also: Three Oscars, innovation and social issues: What importance Tom Cruise gave to filmmaking
Magazine covers
Taylor Swift has appeared on magazine covers for countless times. Elle, Harper's Bazaar, Marie Claire and Vogue have featured her on more than one occasion. She has also graced the pages of Time magazine three times.
"Secret" meetings with fans
Taylor Swift values her relationships with her fans and tries to make every encounter special. She holds private fan meetings before album launches. An example of this was in 2014 when Taylor invited 89 loyal and active fans to her home where she introduced songs from her famous album in 1989.
Philanthropy
An important aspect of Taylor Swift's success is her commitment to charity. For example, she donated $15,500 to help a 19-year-old fan whose mother was in a coma. In addition, she donated $70,000 for new books for children and teens for the library of her hometown.
Recall, we told you interesting facts about the epathetic artist Damiano David.
Want to receive the most relevant news about the war and events in Ukraine - subscribe to our Telegram channel!