Lifehacks
3 simple and tasty ideas for a healthy breakfast: make yourself happy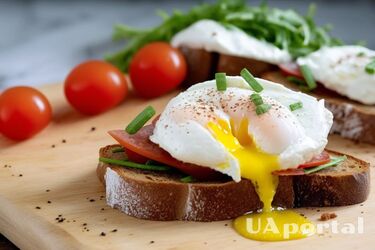 It can be difficult to come up with breakfast ideas that are both healthy and satisfying. UAportal has prepared some practical tips and ideas for delicious breakfasts.
Oatmeal at night
Overnight oats are an ideal breakfast option for those who have little time in the morning. The idea is simple: prepare the oatmeal the night before and leave it to soak in milk or yogurt overnight.
Also read: Recipe for a delicate ryazhenka soufflé
In the morning, you can add fruit, nuts, or honey to your oatmeal to create a delicious and nutritious breakfast. Overnight oats can be prepared in any container with a lid, making them ideal for breakfast on the go.
Smoothies in bowls
A great way to get a healthy and refreshing breakfast, they're easy to make and can be customized to your liking.
Simply blend frozen fruit, such as berries or bananas, with milk or yogurt until you get a smoothie-like consistency. Then pour the mixture into a cup and add toppings such as granola, nuts, or chia seeds.
Also read: How to cut a sponge cake into perfectly even pieces: a life hack with a plate and string
Egg muffins
A great breakfast option for those who want to easily prepare a dish with a high protein content. To make egg muffins, beat eggs and add vegetables of your choice, such as spinach, bell peppers, or mushrooms.
Pour the mixture into the muffin tin and bake in the oven until golden brown. Egg muffins can be stored in the refrigerator and reheated in the microwave for a quick breakfast on a busy morning.
We also offer a recipe for a chickpea salad that is suitable for vegans and vegetarians.
If you want to get the latest news about the war and events in Ukraine, subscribe to our Telegram channel!