Society
Experts explain how to remove stubborn brown stains from oven doors quickly and easily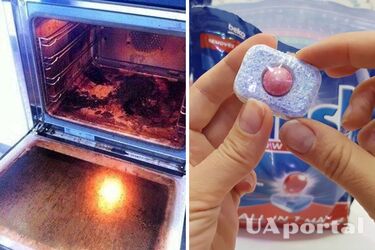 Food residue and grease can cause brown stains on the oven door. It can be difficult to remove these stains.
Cleaning experts recommend using dishwasher tablets for cleaning. This was reported by Express.co.uk.
You need to wet the dishwasher tablet and clean the glass with it a little. Be sure to dip the tablet in water from time to time during the cleaning process to keep it moist.
Read also: Three natural remedies to help remove marble stains
Then wipe the surface with a soapy sponge. Dishwasher tablets are made from a concentrated product, so they are effective against grease stains.
One tablet should be enough to clean the entire oven. The main thing is to moisten it in water from time to time so as not to scratch the glass on the door.
As a reminder, social media is actively discussing a new life hack that promises to get rid of the unpleasant odor from the washing machine and leave it fragrant and fresh.
If you want to get the latest news about the war and events in Ukraine, subscribe to our Telegram channel!