Recipes
Baked pumpkin with cheese: a simple recipe that the whole family will enjoy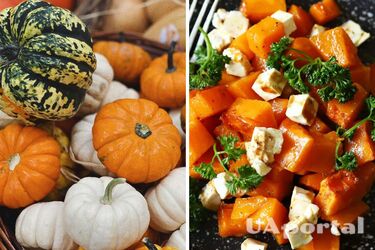 Pumpkin is a versatile vegetable, from which you can prepare completely different dishes: from desserts to side dishes. It can be combined with cheese and herbs.
As you know, fresh pumpkin has a long shelf life. Therefore, such a dish as baked pumpkin under cheese can be prepared even in winter, writes Pixel.
Pumpkin marmalade: a delicious dessert that children love
Ingredients:
pumpkin;
olive oil, pepper mixture, dried Italian herbs;
svan salt;
cheese (any kind).
Method of preparation:
1. Wash the pumpkin, peel off the rind and cut into large chunks. If you like precision, it is about 2 by 3 cm.
2. Place the pumpkin on a baking tray, drizzle with oil and add the spices. Stir so that each piece of vegetable is in the spices.
3. Preheat the oven to 200 degrees and send in the hot pumpkin for 30 minutes.
4. When the pumpkin has already become soft, sprinkle it generously with grated cheese and put it in the oven for another 5-10 minutes. The cheese should melt and bake, and the dish will be very tasty. Combine it best with chicken fillet.
Recall, earlier we wrote about how to properly preserve sorrel for green borscht. And we also advise you to pay attention to the recipe for broken cucumbers.
Want to receive the most relevant news about the war and events in Ukraine - subscribe to our Telegram-channel!