Life
You're doing it wrong: How to brush your teeth with an electric toothbrush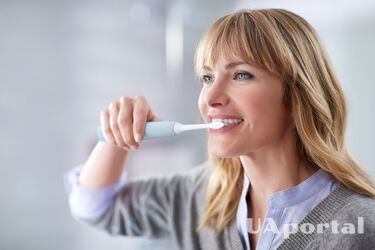 The world is full of devices and gadgets designed to make everyday life easier. One such useful invention is the electric toothbrush, which is not only convenient to use but can also provide better cleaning of the teeth. This gadget has a timer to control the brushing of different areas and can help in getting rid of plaque.
However, in order to use an electric toothbrush effectively, it is important to follow some rules. In the edition of vikna.tv we will tell you how to properly brush your teeth with this device.
Read also: How to gently whiten teeth at home: simple and effective ways
First of all, before you start brushing your teeth, check the charge of your electric toothbrush. A special indicator will tell you how long the charge will last. Remember to also check the condition of the brush head. If it is worn out, replace it - this is recommended every two to four months.
Now move on to brushing your teeth. Lightly dampen the brush and apply a small amount of toothpaste. Select a cleaning mode; there may be several depending on the model.
Position the brush head at a 45° angle along the gum line. Start with the corner teeth and move to the front teeth. Clean the inside first and then the outside. Watch the pressure to avoid damaging the gums. Turn on the brush only after it has been positioned in your mouth.
When brushing, watch the timer that indicates how much time you should spend brushing each area of your mouth. This will help you distribute the time evenly. Move the brush slowly from one tooth to the next, taking a few seconds for each tooth.
After all areas have been successfully cleaned, rinse your mouth and use a mouthwash if necessary. By using your electric toothbrush correctly, you will provide your smile with effective care and keep your gums healthy.
As a reminder, modern dentistry can make a real Hollywood smile. We have collected for you useful information on teeth whitening, advantages and disadvantages of this procedure.
Want to receive the most relevant news about the war and events in Ukraine - subscribe to our Telegram channel!