Recipes
More delicious than you're used to: How to make Swiss potato pancakes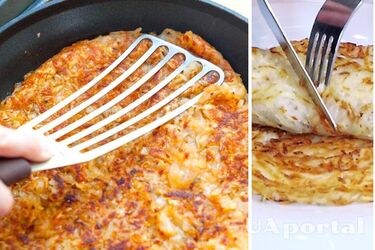 We've already shared tips on how to prevent the darkening of potatoes in pancake batter, and now we'd like to share a recipe for elegant potato fritters, which are popular in Switzerland and are known as rösti.
The recipe for these delicious pancakes is provided by the School of Life portal. Try this simple recipe and enjoy the unsurpassed taste of Swiss potato pancakes.
Read also: A recipe for a delicious breakfast for 100 hryvnias
Ingredients:
Potatoes - 4 pcs.
Onions - 4 pcs.
Sunflower oil for frying
Salt - according to taste
Method of preparation:
Grate the potatoes into thin, long strips. Rinse the sliced potatoes well with cold water.
Place the sliced potatoes on a towel and thoroughly wipe off excess moisture. Transfer to a large, deep bowl.
Also, chop the onion and rinse it well with cold water. Pat dry with a towel and add it to the chopped potatoes.
Mix the potatoes and onions well with your hands. Pour a little frying oil into a small frying pan.
Take a handful of the potato and onion mixture, spread it evenly with your hands, and lightly press down on top with a spatula. Fry over medium heat until well browned, a few minutes on each side.
We also recommend that you pay attention to the recipe for a quick and budget breakfast.
If you want to get the latest news about the war and events in Ukraine, subscribe to our Telegram channel!