Recipes
Tastier than McDonald's: a recipe for breaded chicken nuggets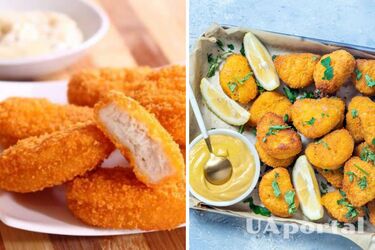 This dish from Shuba is very easy and quick to prepare, but it tastes just as good as a popular fast food restaurant. It tastes best with your favorite sauces.
Ingredients:
Chicken fillet - 4 pcs.
Greek yogurt - 1/2 cup
Breadcrumbs - 250 g
Sunflower oil - to taste
Spices - to taste
Read also: Pumpkin marmalade: a delicious dessert that children will love
Method of preparation:
Cut the chicken fillet into small pieces, put it in a bowl and sprinkle the meat with spices and add yogurt. Leave for 15 minutes.
Roll each piece of chicken in breadcrumbs.
Take a saucepan or a large frying pan with high sides, pour in vegetable oil and fry the chicken until golden brown (about 4-5 minutes).
Place the finished nuggets on a wire rack or napkin to drain.
We also recommend that you pay attention to the recipe for pumpkin risotto.
If you want to get the latest news about the war and events in Ukraine, subscribe to our Telegram channel!