Science
Bronze Age scrub dating back to 1500 BC discovered in Switzerland: had special meaning for the owner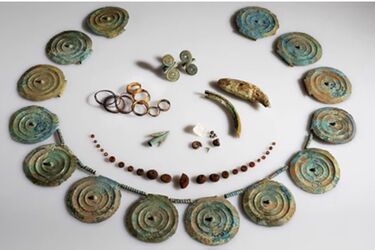 Treasure hunter Franz Zahn found a collection of artifacts in a carrot field. He immediately reported his find to the local archaeology department.
According to LiveScience, scientists have confirmed that the jewelry is "typical jewelry" worn by women around 1500 BC, during the Bronze Age.
Among the finds were a necklace of 14 bronze disks and spikes, two spiral rings, and more than 100 amber beads, about the size of a needle's head.
Other artifacts included a bronze arrowhead, fragments of polished iron ore, ammonite (a marine mollusk), a shark tooth, a perforated bear tooth, and rock crystal.
The archaeologists did not find any human remains, but assume that these items were stored in the field in an organic container that had already decomposed. The researchers believe that these items had a special meaning for the owner and probably served as amulets with protective or healing effects.
Read also: A "festive" coffin with a 3000-year-old mummy of the high priest's daughter was found in Egypt (photo)
By the way, an archaeological expedition in Güttingen discovered a few years ago a settlement from the Bronze Age, where they found the remains of structures dating back to about 1000 BC.
It is reported that the found artifacts are currently undergoing restoration. Next year, they are planned to be exhibited at the Museum of Archaeology in Frauenfeld.
As a reminder, petroglyphs dating back 2,000 years were discovered on the Amazon coast.
If you want to get the latest news about the war and events in Ukraine, subscribe to our Telegram channel!