Science
Tools of primitive people 2.5 million years old discovered in China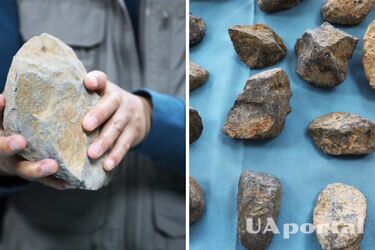 On the territory of Central China, where one of the oldest sites of primitive people in Eurasia, 2.5 million years old, is located, archaeologists have discovered several dozen stone tools.
The information is reported by Xinhua news agency.
The excavations took place at the Lungupo parking lot in Chongqing Municipality, which covers an area of about 1300 square meters. It is assumed that this place has existed for 2 to 2.5 million years and is one of the oldest human settlements in Eurasia.
This was the fifth stage of archaeological excavations at the site, which began in 1985.
During the current expedition, archaeologists found a significant number of stone tools with pronounced traces of manual processing used by the primitive people who stayed at this site.
There is currently no information about the age of the artifacts. The timeframe of their manufacture will be determined precisely after laboratory tests.
Read also: A 900-year-old crusader's sword in excellent condition found in Israel
It is reported that during the excavations, advanced scientific and technological methods were used, such as three-dimensional digital scanning of relict layers, 3D modeling, as well as innovations in concepts, methods and technologies.
The researchers expect that the results of the expedition will provide important scientific data on the evolution of the environment near the Lungupo site, as well as on the origin and evolution of humans.
As a reminder, a giant stone hand axe dating back 200,000 years was found in the desert in Arabia.
If you want to get the latest news about the war and events in Ukraine, subscribe to our Telegram channel!