Lifehacks
Hydrangea care in the fall: how to prepare bushes for wintering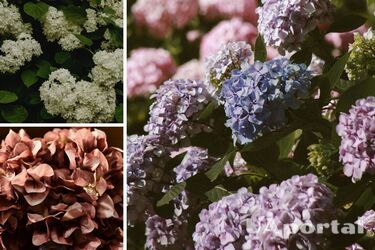 With the onset of cold weather, all your garden plants need special care. We'll tell you what to do with hydrangeas in the fall and how to help them overwinter safely.
Experts from the Floristics publication shared their tips. It is noted that plants are pruned in the fall. This should be done in several stages.
In mid-September, all the lower leaves are usually cut off to the middle of the bush (the upper ones are not touched). This will speed up the process of lignification of the shoots. After 3-4 weeks in October, without waiting for severe night frosts, the large-leaved hydrangea begins to be gradually insulated.
Read also: Gardeners explained what to do with hydrangeas to make them bloom lushly next year
In November, in the absence of night frosts, the shrub is fed with phosphorus-potassium fertilizer: 40-60 g of superphosphate and 30 g of potassium salt or 25 g of potassium sulfate are added per 1 square meter of soil.
Treatment against diseases and pests
In the fall, it is also recommended to treat the bushes against diseases and pests that could settle down for the winter in the bark or in the soil of the trunk. After leaf fall, hydrangeas are sprayed with 3% Bordeaux liquid.
Shelter
But the most important procedure carried out in the fall is the careful preparation of the shrub for winter. This is especially true for large-leaved hydrangea (macrophylla).
Large-leaved hydrangea requires the most thorough preparation for winter and reliable shelter as it is more afraid of frost than other species. The fact is that this capricious beauty blooms on last year's shoots. And if flower buds freeze on them in the fall, there will be no flowers next year.
Without waiting for severe night frosts, the large-leaved hydrangea begins to be gradually insulated. This plant is not afraid of damping off, so it is better to cover it in advance than to be late.
Preparing the tree hydrangea for winter
Most varieties of this species are unpretentious, so they do not need shelter for the winter. Large-flowered forms require light hilling. This helps protect the root system from the cold.
Earlier, we told you whether hydrangeas should be watered in the fall and how to make a "protective cage" for them.
If you want to get the latest news about the war and events in Ukraine, subscribe to our Telegram channel!