Recipes
Pumpkin tea: a delicious drink that will warm you in the cold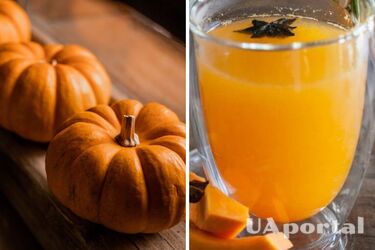 Pumpkin tea is a delicious and healthy drink that can be prepared at home in the fall or winter. It contains a lot of carotene, vitamins and minerals that are good for your health.
The drink can be served hot or cold. It is great for any occasion, such as a family evening, a party, or just for yourself on a cold day.
Also read: Pumpkin pie with onions and cheese: an incredible dish that the whole family will love
Recipe #1: pumpkin tea with honey
Ingredients:
pumpkin - 200 g,
water - 1 liter,
black or green tea - 1 teaspoon,
honey - 1/2 teaspoon.
Method of preparation:
1. Peel the pumpkin from the skin and seeds. Then grate it.
2. Mix pumpkin, water and black tea in a saucepan.
3. Bring to a boil, then reduce heat and simmer for 15-20 minutes, stirring occasionally.
4. Strain the tea, add honey and enjoy.
Recipe #2: pumpkin tea with milk and cinnamon
Ingredients:
Pumpkin puree - 60-70 g.
Freshly brewed black tea - 2 cups.
Hot milk - 1 cup.
Cinnamon, sugar, nutmeg and cloves.
Method of preparation:
1. Bake the pumpkin and beat with a blender until pureed.
2. Add the rest of the ingredients to the mashed potatoes and blend again.
3. Pour into cups, add cinnamon, sugar, nuts or cloves.
Earlier, we told you how to make pumpkin marmalade. This healthy dessert should be consumed in moderation.
If you want to get the latest news about the war and events in Ukraine, subscribe to our Telegram channel!