Recipes
Pumpkin porridge: an old recipe that our grandmothers used to prepare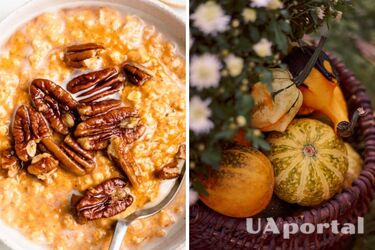 Fall is pumpkin season. Nowadays, the vegetable is affordable and can store almost all winter.
Pumpkin porridge is a delicious and nutritious dish that is suitable for breakfast, lunch and dinner. It contains many useful vitamins and minerals such as carotene, vitamin A, vitamin C, potassium, magnesium and phosphorus, which will help to support immunity.
Read also: Pumpkin derunes in a frying pan: a dish that will surprise relatives and guests
Ingredients for pumpkin porridge according to the recipe of the grandmother, which can be cooked in the oven or on the stove.
Pumpkin - 800 g.
Milk - 600 g.
Steamed rice - 200 g.
Butter - 40 g.
Honey - 1 tbsp. bed.
Salt, sugar, cinnamon, ground ginger, nutmeg to taste.
For a more tender porridge you can use cream instead of milk. If you want the porridge to be sweeter, you can add more sugar to it
Cooking method:
1. Peel the pumpkin from the skin, cut it into cubes and put it in a pot.
2. Rinse the rice well with hot water and add it to the pumpkin already in the pot.
3. Pour in the milk, but so that it covers everything by half a finger.
4. Put on the stove and wait for boiling, after which you need to turn down the heat and cook for another 20-25 minutes until the rice is fully cooked.
4. Porridge can also be cooked in the oven, which will turn out even more delicious and flavorful.
5. Finished dish should be ground well, give butter, sugar, honey and cinnamon, as well as other spices to your taste. Let it infuse for 20 minutes and savor!
Previously, we told you how to make marmalade from pumpkin. This healthy dessert should be consumed in moderation.
Want to receive the most up-to-date news about the war and events in Ukraine - subscribe to our Telegram channel!