Recipes
Chef reveals the recipe for the "best" crispy fried potatoes (video)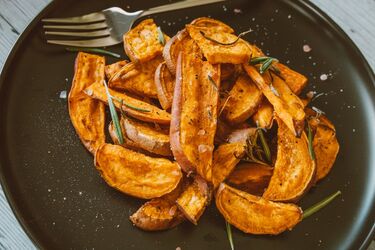 Chef Harrison Webb has shared his secret to making the "best" crispy fries. He posted a video recipe on TikTok, and it became a hit among fans of the chef's talent.
His recipe is easy to follow and requires only a few ingredients that can be found in any grocery store.
In his video, Webb demonstrates how to get perfectly crispy fries with a "fluffy center" in a few simple steps.
Read also: Budget haute cuisine: how to cook pumpkin steaks
To make crispy fried potatoes according to Harrison Webb's recipe, you will need the following ingredients:
6 potatoes
a tablespoon of chopped garlic
a sprig of rosemary
a pinch of salt and ground black pepper
5 tablespoons of goose fat
a tablespoon of rosemary salt (optional)
Method of preparation:
Cut the peeled potatoes into quarters. Place the potatoes in a bowl of cold water and rinse until the water runs clear.
Add chopped garlic, a sprig of rosemary, salt and pepper to the potatoes.
Preheat the oven to 180 degrees Celsius.
Add the goose fat to a baking dish and put it in the oven to preheat.
Boil the potatoes in salted water until soft.
Rinse the boiled potatoes and let them dry.
Put the potatoes in a baking dish with the goose fat poured over the potatoes.
Bake the potatoes in the oven for 30 minutes, then remove and turn them over.Bake for another 30 minutes, or until the potatoes are crispy.
Sprinkle the finished potatoes with rosemary salt, if desired.
To make the rosemary salt, combine the rosemary leaves, cilantro, and lemon zest in a bowl. Then grind the ingredients together and sprinkle on top of the cooked potatoes.
Fans have praised Webb's recipe online, calling it "divine." By the way, goose fat can be replaced with vegetable oil.
Here's a recipe for Kolomyia potato knymly with bacon.
We also recommend paying attention to the recipe for sauerkraut with apples.
If you want to get the latest news about the war and events in Ukraine, subscribe to our Telegram channel!