Recipes
The most delicious recipe: How to quickly cook chicken liver in just 15 minutes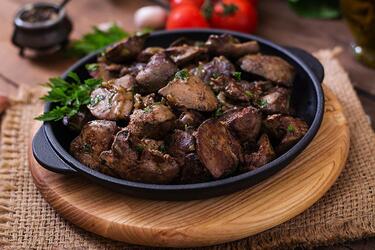 Culinary expert Yevhen Klopotenko has shared a useful life hack on how to cook chicken liver quickly and deliciously. According to his recommendations, to achieve a delicious result, you should use a mixture of oil and butter in a 2:1 ratio when frying.
It is also important to note that Klopotenko advises salting the liver after the cooking process is complete. The chef writes about this on his Facebook page.
Read also: Perfect for lunch: a recipe for light corn soup
Ingredients:
Chicken liver
Oil
Butter
Flour
Salt (add after frying)
Cooking procedure:
Peel the liver from the film and cut it into pieces.
Dredge each piece in flour on a plate.
Heat the oil and butter in a frying pan.
Fry the liver until tender for 15 minutes.
We also recommend that you pay attention to the recipe for a quick pita bread pie.
If you want to get the latest news about the war and events in Ukraine, subscribe to our Telegram channel!