Recipes
Recipe for chocolate muffins with pear: kids will be thrilled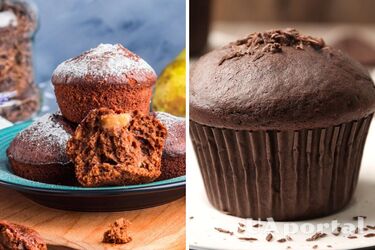 These muffins from Shuba are perfect as a snack. You can take them with you to work and school. Enjoy the bright taste and tenderness of these pastries.
Ingredients:
Wheat flour - 200 g
Chicken eggs - 2 pcs.
Milk - 80 ml
Sunflower oil - 50 ml
Vanilla extract - 1 tsp.
Salt - to taste
Powdered sugar - 150 g
Chocolate chips - 80 g
Sour cream - 50 g
Pears - 1 pc.
Baking powder - 1 tsp.
Cocoa powder - 35 g
Read also: Pumpkin tea: a delicious drink that will warm you in the cold
Method of preparation:
1. Beat eggs with milk, vanilla and oil.
2. Sift the flour with cocoa and baking powder. Add sugar and a pinch of salt. Mix well.
3. Combine the liquid and dry ingredients and mix.
4. Cut half the pear into cubes and half into thin slices. Put the cubes into the dough and mix.
5. Take the muffin tins and fill them with the batter. Garnish with pear slices.
6. Bake at 180°C for 20 minutes.
We also recommend ou to pay attention to the recipe for pumpkin and oatmeal cookies in 30 minutes.
If you want to get the latest news about the war and events in Ukraine, subscribe to our Telegram channel!