Recipes
Recipe for pickled cabbage with apples in 20 minutes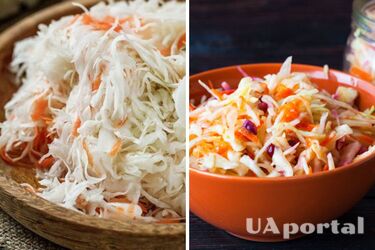 Despite its simplicity and quick preparation, this pickled cabbage recipe from Shuba will surprise you with its rich, zesty flavor. You can enjoy it on its own or use it as an ingredient in various dishes.
Ingredients:
White cabbage - 1 head;
Carrots - 3 pieces;
Simirenko apples - 2 pieces.
Rock salt
Read also: Three delicious kale recipes you'll want to cook all the time
Preparation:
Finely chop the cabbage, peel and grate the carrots, and slice the apples.
Place everything in a large saucepan or bowl, add salt, mix well, and let it sit for three days at room temperature, stirring daily.
In summary, we have previously discussed how to make the perfect sauerkraut.
If you want to get the latest news about the war and events in Ukraine, subscribe to our Telegram channel!