Society
Five things you should do on your birthday to have a successful year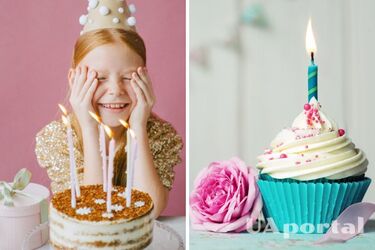 A birthday is a special moment when the world shines brighter, your heart is filled with warmth and the smile never leaves your face. However, it is important to spend this day with benefit for yourself.
About this writes Ukr.media.
Here are a few things that should be done on your birthday to make the year go well:
Make yourself happy
Allow yourself a sumptuous breakfast or visit a movie theater. Do something you don't normally do because of the hustle and bustle of everyday life. Or even give yourself an unusual gift that will make you happy.
Spend time with loved ones
Birthdays are the perfect time to bring family and friends together. Have a party, dinner or just invite someone over to your place. It is important to surround yourself on this day with positive and supportive people.
Realize a dream
Everyone has dreams that are often put on hold. Why not take the first step towards their realization on this day? It could be traveling, a new hobby or even reading a book.
Read also: Why people wish for health after someone sneezes
Share happiness
Birthday is a great time to share your happiness with others. Donate to charity or just help someone. Doing good is not difficult and it will help you feel harmony within yourself.
Start a plan journal
Write down your thoughts and feelings on your birthday. This diary will be an incredible source of inspiration for you in the future. Congratulate yourself on your achievements and set new goals. Create a list of things you want to accomplish in the next year. It's important to plan, but only set realistic goals that you can accomplish.
To protect yourself from negative influences, you can put a silver piece (such as a ring, cross, stud or chain) in your pocket. This really strengthens the protective field of energy. Another option for protection from negativity is the use of a mirror, which is also placed in the pocket. The mirror is placed on the chest, for example, in the breast pocket of a shirt, blouse or jacket. It reflects both positive and negative energy, giving back only positive.
Some folk omens and recommendations to observe on your birthday:
Celebrate your birthday. Even if it is only a celebration with your family, the most important thing is to celebrate this special day.
Wear clean or new clothes and undergarments. Outfits can be changeable throughout the day and are considered protection from negative environmental influences.
Put a bill in your pocket, which can attract financial luck. If pockets are not available, they can be attached to the back of pants or bodices.
Give gifts to your friends. The generosity of the birthday boy is considered important, and it can be rewarded by a guardian angel who will bestow prosperity.
Listen carefully to greetings from family and friends, accepting them with gratitude. Positive words create an energetic program for prosperity, good luck and good health for the coming year.
Don't forget the birthday cake with candles. Choose the number of candles carefully, avoid the numbers 9, 13, 18, 21, 51, 99 and 100. Always try to extinguish the candles on the first try.
A shooting star on your birthday is a good omen. Make a wish, and it will probably come true quickly.
Recall, we have already written why you can not celebrate the 40th birthday.
Want to receive the most relevant news about the war and events in Ukraine - subscribe to our Telegram channel !