Recipes
A healthy breakfast: How to make pancakes with oatmeal and cottage cheese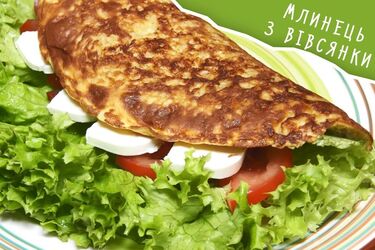 Breakfast is one of the most important meals of the day, and it should be nutritious, light, and delicious. One of the great options for meeting these criteria is a delicious oatmeal pancake, and you can add cottage cheese to increase the health benefits of this dish.
This recipe from the prostoway website will be a great option for a varied and satisfying breakfast. But adding cottage cheese will make it even healthier and tastier.
Read also: Housewives share a recipe for an omelette with zucchini for breakfast
Ingredients:
3 tablespoons of oatmeal;
3 tablespoons of milk;
2 eggs;
1 tablespoon of cottage cheese.
Instructions:
Start by pouring the milk over the oatmeal and leave it to swell for a few minutes.
In another bowl, beat the eggs in a blender together with the cottage cheese and the soaked oatmeal in milk. Let the mixture stand for 10 minutes.
To make the pancake even more delicious and interesting, you can add grated cheese and chopped tomatoes.
Heat a frying pan with vegetable oil and pour the prepared mixture into it. Cook the pancake for 3 minutes over medium heat. Then flip the pancake over and add the filling suggested above.
The finished oatmeal pancake can be served. Enjoy!
We also recommend that you pay attention to the recipe for pumpkin porridge.
If you want to get the latest news about the war and events in Ukraine, subscribe to our Telegram channel!