Recipes
Nourishing and warming: lentil and pumpkin soup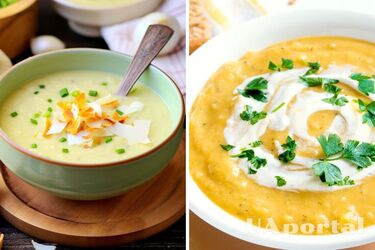 Pumpkin soup according to the recipe from Shuba is a perfect choice for the cold autumn season. It is not only hearty but also very tasty.
Ingredients:
Vegetable broth - 800 ml
Pumpkin - 500 g
Potatoes - 2 pcs.
Red lentils - 60 g
Onion - 1 pc.
Carrot - 1 pc.
Salt - to taste
Ground black pepper - to taste
Spices - to taste
Butter - 50 g
Greens - to taste
Read also: Pumpkin pancakes in a pan: a dish that will surprise family and guests
Cut the vegetables.
Take a thick-walled saucepan and melt the butter in it; add onions and carrots. Fry until soft. Add the pumpkin pieces, potatoes, and washed lentils. Pour in the broth, add salt, and cook over low heat for 30 minutes after boiling.
Pour the mixture into another bowl, and puree it in a blender. Dilute the mashed mixture with the broth, add salt, pepper, and spices, and bring to a boil again.
We also recommend you to pay attention to the recipe for rice with vegetables.
If you want to get the latest news about the war and events in Ukraine, subscribe to our Telegram channel!