Lifehacks
Hairdressers shared a life hack on how to make a ponytail perfectly smooth: an effective life hack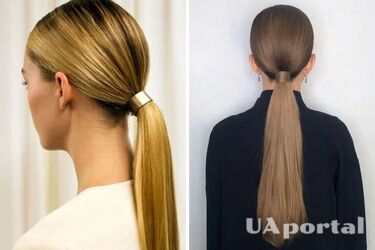 Some days, your hair is so unruly that despite all your manipulations, it still flatly refuses to lie down as it should. At such moments, it is difficult to comb the curls even into a perfectly smooth ponytail, Ukr.Media constantly informs.
Just for such occasions, savvy life hackers have already found a trick that will help you quickly deal with strands sticking out in the tail. To improve your hairstyle, you only need a simple hairpin.
Read also: 5 tips for nourishing the scalp in the fall if your hair starts to fall out actively
How to remove the "rooster" in the tail:
gather your ponytail as you usually do;
take a hairpin and secure it into your hairstyle;
now simply slide the hairpin in the direction from the hairline to the base of the ponytail;
repeat the same thing on different sides of the tail until the "roosters" on the head are completely smoothed out;
when all the strands that are sticking out are combed through with the hairpin, the hairstyle can be fixed with hairspray.
As a reminder, we've already written about how to dry your hair properly.
Do you want to receive the latest news about the war and events in Ukraine? Subscribe to our Telegram channel!