Life
Negatively affects the functioning of the intestines: what foods you absolutely must not eat bread with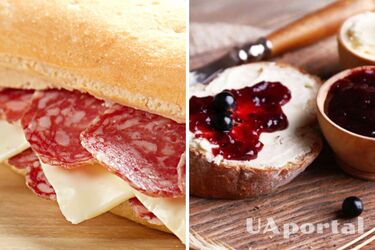 Bread serves as a source of carbohydrates necessary to provide the body with energy. In addition, it contains B vitamins, minerals and fiber, which contribute to the normal functioning of the body.
TSN writes about it.
Nevertheless, nutritionists emphasize that excessive consumption of bread can lead to excess weight and metabolic problems. This often happens because bread is consumed with foods that do not go well with it.
Combinations of foods that do not go well with bread:
Jam
The combination of jam and bread can be heavy and high in calories, especially for those who are watching their figure.
Sausage
Although bread and sausage is a classic combination, it is best to avoid it due to the possible content of dyes and preservatives in sausage.
Fruit salads, pickled vegetables, sauerkraut
While these foods may seem like tasty sandwich additions, they can cause stomach problems.
Potatoes.
The combination of potatoes and bread can cause stomach heaviness and bloating.
Read also: 5 tips to prevent fatty liver disease
Meat, in particular kebabs
The combination of fried meat and white bread can cause heaviness in the stomach and liver.
Cereals and pasta
Eating them at the same time can lead to an excessive load of carbohydrates.
Mushrooms
The combination of mushrooms and bread can cause heaviness and bloating due to the heavy load on the stomach.
As a reminder, we have already written why it is better not to eat raw vegetables and fruits during the cold season.
If you want to get the latest news about the war and events in Ukraine, subscribe to our Telegram channel!