Recipes
Unusual flavor: recipe for mushroom hodgepodge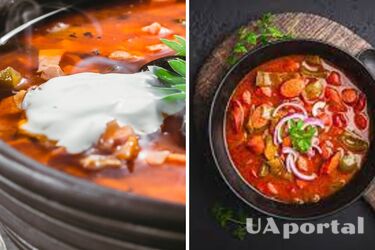 Mushroom hodgepodge according to the recipe from Shuba will not only surprise you with incredible flavor, but also save money. The main ingredient of this soup is mushrooms.
Ingredients:
Water - 1 liter
Mushrooms - 150 g
Pickled mushrooms - 100 g
Pickled cucumbers - 100 g
Onions - 1 pc.
Carrots - 1 pc.
Tomato paste - 40 g
Olive oil - 40 ml
Cucumber brine - 150 ml
Laurel leaf - 1 pc.
Salt - to taste
Ground black pepper - to taste
Herbs - to taste
Read also: Suitable for all: a universal recipe for canning any vegetables for the winter
Method of preparation:
1. Finely chop onions and carrots and fry until half cooked.
2. Salt mushrooms and cucumbers and add to the vegetables, dressing all cut tomato paste.
3. Stew for 5 minutes.
4. Wash the mushrooms, cut into pieces and put them in a pot with water. Bring to a boil, add salt and salt and simmer for 10 minutes. After that roast, brine, bay leaf, pepper and cook for 15 minutes.
We also advise you to pay attention to the recipe for mushroom pate.
Want to receive the most relevant news about the war and events in Ukraine - subscribe to our Telegram channel!