Recipes
Unusual and very tasty: How to make kale pancakes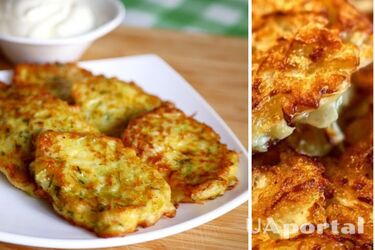 Cabbage, an inexhaustible element of our culinary experiments, can be striking in its variability. Try this simple recipe and you will be amazed at how delicious and creative cabbage can look.
Instead of the usual stews or casseroles, we suggest you try unusual cabbage pancakes - a simple, tasty and budget-friendly option that will certainly surprise you and your family. The recipe was shared on the Ukr.Media website.
Read also: Housewives share a recipe for an omelette with zucchini for breakfast
Ingredients:
500 g of cabbage;
1 large onion;
3 cloves of garlic;
3 eggs;
4 tbsp of flour (60 g);
1 tsp. salt;
spices to taste;
vegetable oil for frying;
optional: sour cream or yogurt, dill and garlic for the sauce.
Method of preparation:
Chop the cabbage, put it in a saucepan, cover with 4 cups of water and boil for 10 minutes. Strain the liquid and let it cool slightly.
Peel and chop the onion and garlic, fry them in a frying pan with a little oil. Add to the cabbage.
Add the eggs, salt, spices, flour, and knead the vegetable dough.
Heat the oil in a frying pan. Spoon out the dough and form pancakes. Fry until golden brown on both sides.
For the sauce, mix yogurt (sour cream) with dill and garlic. Serve with the cabbage pancakes.
We also recommend that you pay attention to the recipe for pumpkin porridge.
If you want to get the latest news about the war and events in Ukraine, subscribe to our Telegram channel!