Recipes
Pumpkin marmalade: a delicious dessert that children will love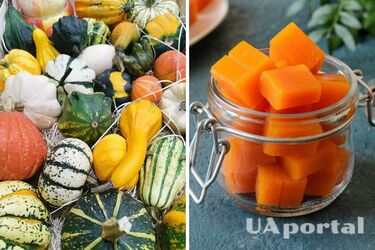 Pumpkin marmalade is a healthy dessert, but it should be consumed in moderation. It contains many vitamins, minerals and other nutrients that are essential for human health.
It is better to use fresh pumpkin than canned or frozen pumpkin. Do not add a lot of sugar to the marmalade, as this will reduce the beneficial properties.
Read also: Five interesting dishes that can be made from pumpkin
Ingredients:
sugar - 270 g,
boiled water - 500 ml,
pumpkin pulp - 500 g
lemon juice - 70 ml,
powdered sugar - 1 tbsp.
Method of preparation:
1. For marmalade, it is better to choose a sugar or nutmeg pumpkin that is free of dark spots. Peel it, cut it into cubes, cover with water and cook until it becomes soft.
2. Rub the pumpkin through a sieve and put it in another saucepan, add sugar. Heat the whole mass over low heat, stirring constantly.
3. After 2 minutes, add lemon juice and cook for another 10 minutes to make it thick. The marmalade should fall off a tablespoon in pieces. If you see that your pumpkin is still liquid, continue cooking.
4. Put the marmalade on a baking sheet covered with parchment. Leave it for 10-12 hours until it thickens completely. After that, you can cut into pieces, sprinkle with powdered sugar and enjoy.
Earlier, we wrote about how to properly preserve sorrel for green borscht. We also recommend that you pay attention to the recipe for battered cucumbers.
If you want to get the latest news about the war and events in Ukraine, subscribe to our Telegram channel!