Society
Magnetic storm covers the Earth: how long will it last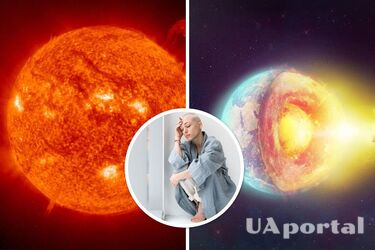 November began with a powerful magnetic storm with a magnitude of 5. These geomagnetic shocks lasted throughout November 1 and 2.
According to the Meteoagent, the powerful storm has subsided and its strength will be only 3 points by November 5, while by November 9, the magnetic storm will be subtle, only two points.
Read also: Why bad weather and magnetic storms give you a headache: how meteorology affects humans
On November 9, geomagnetic fluctuations will increase to 5 points, which threatens meteorologically sensitive people with a deterioration in their health. The very next day, the storm will subside to 3 points and begin to gradually subside by November 14.
Magnetic storms can cause the following symptoms:
irritability, apathy, aggression, depression.
increased fatigue.
nausea, lack of appetite.
dizziness, headaches.
heart palpitations.
changes in blood pressure.
drowsiness or insomnia.
bone aches, weakness in muscles, and pain in places of old injuries.
exacerbation of chronic diseases.
Experts advise to devote more time to your health on days of magnetic storms. In particular, it is worth spending more time outdoors, reducing the consumption of coffee and spirits, drinking more water, and focusing on rest. You should also try to reduce stress.
Attention: This content is for informational purposes only and does not contain any medical advice. For medication, diagnosis, and other medical advice, please consult your doctor.
Earlier, we reported that scientists have found a way to reduce pain without medication.
If you want to get the latest news about the war and events in Ukraine, subscribe to our Telegram channel!