Lifehacks
How to remove grease stains from a down jacket without washing: a simple life hack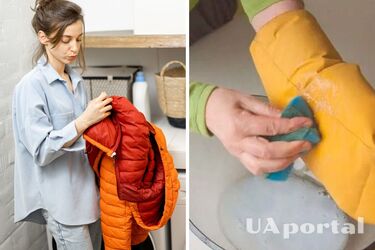 To get rid of unpleasant stains on down jackets, you should take a careful approach and use the best methods or products. Particularly soiled parts, such as the hem, collar, and sleeves, should be moistened with water before washing.
Experts from American Dry Cleaners recommend paying special attention to treating these areas with laundry soap. Afterward, you should gently rub them with your hands.
Read also: How to make towels soft
How to remove stains without washing: If you are faced with tough stains, it is effective to use an all-purpose stain remover. Try the following:
Take 2 teaspoons of liquid detergent and ammonia.
Whisk until foam forms.
Apply to the problem areas.
Leave the foam on for 2-5 minutes and then rinse gently with a clean sponge.
Two life hacks for removing greasy stains: Use gasoline for greasy stains:
Run a cotton swab through a solution of gasoline and treat the problem areas.
Sprinkle with talcum powder, salt, or starch.
Thoroughly remove the stain and residue, then wipe with a damp cloth.
Or try another method:
Mix starch and salt (1:1) with a little water until you get a paste-like consistency.
Apply the mixture to the stain, leave it to dry and remove it with a sponge.
For foundation stains, use micellar water:
Soak a cotton pad in micellar water.
Treat the problem areas.
As a reminder, we have already written how to wash different types of fabrics.
If you want to get the latest news about the war and events in Ukraine, subscribe to our Telegram channel!