Lifehacks
How to save overcooked pasta: advice from professional chefs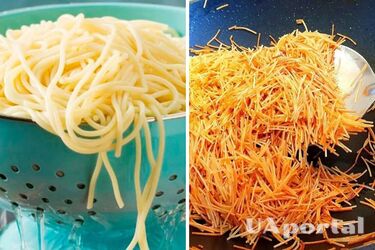 Instead of throwing away overcooked pasta, you should try to remedy the situation by frying it. Experienced chefs shared their life hack.
This was reported by Shuba. Olive oil, which is an essential ingredient in Italian cuisine, can save this dish.
Read also: How to cook buckwheat in 3 minutes
The process of rescuing pasta is quite simple: heat olive oil in a frying pan and add the cooked pasta. Fry them over medium heat for a few minutes until they harden. The whole process will take less than 10 minutes.
When the edges of the pasta are easily browned, you can add your favorite sauce.
"Although the texture may not be the same as properly cooked pasta, this method will help save the dish and reduce food waste," the article notes.
Earlier, we wrote about how to cook delicious and juicy pasta in minutes.
If you want to get the latest news about the war and events in Ukraine, subscribe to our Telegram channel!