Recipes
How to make delicious sardine spread sandwiches: a simple recipe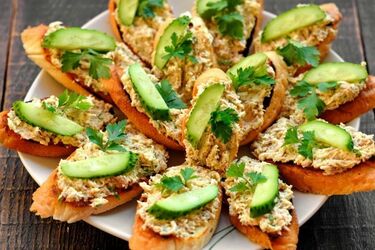 Not only classic fillings, but also quite unusual and delicious sandwiches can decorate your table. Here's a recipe for refreshing sardine, egg, and onion sandwiches that will be a great addition to any feast.
This recipe guarantees you not only a rich taste but also an unforgettable aroma and appearance, as reported by OBOZREVATEL. Be creative and experiment with a variety of fillings for your perfect sandwich.
Read also: How to cook tender lazy dumplings
Ingredients:
Sardines - 1 can
Shallots - 1/2 pc.
Eggs - 3 pcs.
Cheese - 50 g
Mayonnaise - 1 tbsp.
Spices: salt, pepper - to taste
Baguette or loaf
Garlic - 1 clove.
Lettuce leaves, cucumber - for serving
Preparation:
Drain the sardines into a separate bowl, but do not pour it out completely. Mash the sardines with a fork until smooth.
Boil the eggs. Separate the whites from the yolks. Grate the whites, yolks, and cheese separately. Add the finely chopped onion. You can use onions for a richer flavor.
Add spices and mayonnaise, and mix until smooth. To achieve the desired thickness, add a few spoonfuls of sardine liquid.
Cut the baguette or loaf into slices and fry them in a little oil until golden brown on both sides. Then rub each slice with a clove of garlic on one side.
Spread the toasted slices with the mixture and serve with lettuce leaves and cucumber slices.
We also recommend that you take a look at the recipe for toast with eggs and chanterelles.
If you want to get the latest news about the war and events in Ukraine, subscribe to our Telegram channel!