Lifehacks
How to refresh pillows without washing and dry cleaning: housewives share their life hack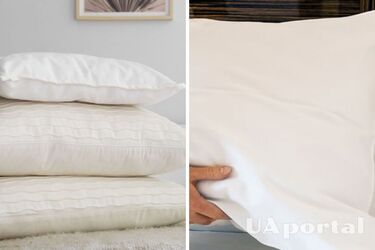 Clean bedding is the key to good and healthy sleep. However, pillows can lose their volume and snow-white color over time. Sometimes washing machine is not an option. But don't worry. With one simple recipe, you can quickly refresh your pillows without using a washing machine.
TSN writes about it.
First, you need to create a special solution, for which you will need:
5 liters of warm water;
1 tablespoon of soda;
1 glass of vinegar;
1 tablespoon of shampoo or liquid soap.
These ingredients form a powerful remedy for stains, yellowness, and odors.
Dip the pillow in the prepared solution and leave it for 30-40 minutes. Do not forget to turn the pillow over periodically.
Read also: How to make towels soft
After that, just rinse the pillow in clean water and gently squeeze it out (without rotating) so as not to damage the structure of the filler.
Place the pillow in fresh air or in a warm place away from direct sunlight and leave it to dry completely. Shake regularly to restore volume. This method will allow you to renew the appearance of the pillow, get rid of allergens and dust mites, improve the aroma, and extend its service life in general.
To recap, we have already written how to clean a pillow without washing it.
If you want to get the latest news about the war and events in Ukraine, subscribe to our Telegram channel!