Lifehacks
How to easily peel a pomegranate in a minute: a simple and clean method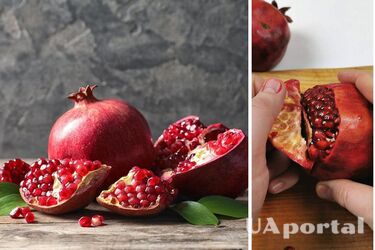 Discover a quick and effective way to peel pomegranates without stress or spending a lot of time. This simple method makes peeling pomegranates an easy and enjoyable process.
Read also: How to choose mangoes, pomelos, and pineapples to avoid wasting money
Pomegranates are a real treat for the palate, but their tough skin can make it difficult to separate the juicy arils. However, with this simple trick, you can easily overcome these challenges and savor pomegranates effortlessly, OBOZREVATEL writes.
What you'll need: a knife, a bowl, and a wooden spoon or a similar tool.
Carefully cut off the top of the pomegranate, being cautious not to damage the arils. Place the removed top away from your workspace.
Then, carefully cut the pomegranate in half, following the natural ridges. You'll effectively split the pomegranate into two halves.
Hold one of the pomegranate halves over a bowl with the aril side facing down, separating it from the other half with your hands.
Using a wooden spoon or a similar tool, gently tap the back of the pomegranate. Ensure the arils fall easily into the bowl beneath the pomegranate. Repeat this process with the other half of the pomegranate.
By using this method, you can quickly and effortlessly peel pomegranates and relish the juicy arils without the risk of damaging their structure.
Previously, we shared tips on how to rapidly peel a pineapple.
If you want to get the latest news about the war and events in Ukraine, subscribe to our Telegram channel!