Lifehacks
How to beat eggs well without a mixer: simple tips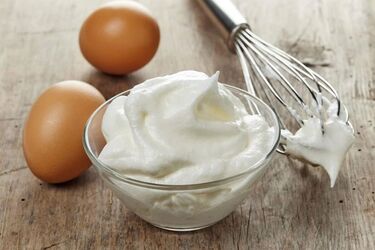 Looking for a way to whip up perfect egg whites but don't have a mixer at home? We found for you a handy trick and a set of techniques that will allow you to achieve lush peaks without much effort.
With these simple tricks from the OBOZREVATEL website, you can enjoy perfectly whipped egg whites even without a mixer. Try these tricks and enjoy the looseness and flavor of your next culinary masterpiece.
Read also: Why eggs need to be sprinkled with salt: a lifehack from smart grandmothers
Start with the right preparatory step:

Separate the eggs and separate the whites.
Transfer the whites to a clean and dry bowl, making sure there is no grease or other traces.

Add a pinch of salt:

Add a pinch of salt to the whites, this will make them more stable and make it easier to achieve stiff peaks.

Use a whisk:

Use a whisk to whip the whites. The special design of the whisk provides excellent aeration and rapid foam formation. Hold the handle firmly and whip the whites in a circular motion for optimum results, especially when working with small batches or in circumstances where time is of the essence.

Whip while chilled:

Place the bowl of whites in the freezer for a few minutes. Chilled proteins are more likely to take on the desired consistency. Whip them using a whisk - this is an effective alternative to mixers.
Recall, UAportal shares the secrets of how long to cook eggs and how.
Want to receive the most up-to-date news about the war and events in Ukraine - subscribe to our Telegram channel!