Society
Spoil the interior of the bathroom: towels of what colors it is better not to buy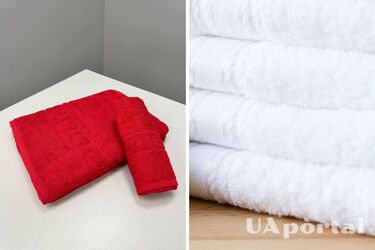 The design of even the most stylish bathroom can spoil such a seemingly trifling thing as the color of the towel. If it is selected incorrectly - will look ugly the whole overall picture of the room.
About this writes Radiotrek.
Red
Such a bright color is not so easy to harmoniously fit into the interior. However, here it is important personal perception of color. If you associate red with cartoons, toys or modern art, then such towels in the bathroom are better to avoid, especially if you want to create a cozy atmosphere.
In a completely minimalist space with a calm color scheme, red can be too bright an accent. It is better to choose a pale pink or tea rose color.
Read also: How to lay laminate flooring at home yourself: repair tips
Yellow
This is a very positive color, literally filling with energy. If you need peace, yellow will not suit you. On the other hand, it is the perfect choice for toweling teenagers and young energetic women.
White
Snowy white is the color that is meant to be used. ivory. Despite the fact that this is an eternal trend, this year designers abandoned it for practical reasons. After all, it is quite difficult to care for them, and towels with stains will not become a decoration of any bath.
Recall, we have already written what things make the interior unfashionable.
Want to receive the most relevant news about the war and events in Ukraine - subscribe to our Telegram-channel!