Recipes
Perfect for a snack: pumpkin oatmeal cookies recipe in 30 minutes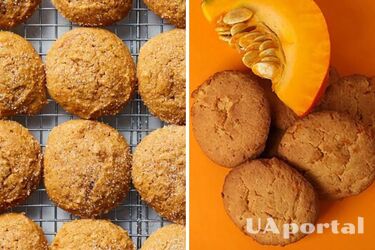 Pumpkin makes this cookie recipe from Shuba soft and moist, and its sweet flavor pairs beautifully with the rolled oats.
Ingredients;
Butter - 1 cup
Sugar - 1 cup
Brown cane sugar - 1 cup.
Pumpkin puree - 1 liter
Chicken eggs - 1 pc.
Wheat flour - 2 cups
Vanilla extract - 1 tsp.
Baking soda - 1 tsp.
Salt - 1/2 tsp.
Walnuts - 3/4 cup
Raisins - 3/4 cup
Ground cinnamon - 1/4 tsp.
Ground nutmeg - 1/4 tsp.
Ground cloves - to taste
Flaked oats - 1.5 cups
Read also: Pumpkin tea: a delicious drink that will warm you up in the cold time
Cooking method:
Preheat the oven to 180 ° C, and two baking trays with parchment.
In a bowl, beat the softened butter, granulated sugar and brown sugar for 3 minutes.
Add the pumpkin puree, egg, a teaspoon of vanilla extract and mix.
Take another bowl and mix together the instant oats, pumpkin pie spices (cinnamon, nutmeg, cloves), baking soda, pinch of salt and flour. Stir into the wet mixture.
Slowly add the chopped walnuts and raisins.
Make "balls" out of the dough and place on a baking tray, not very close together.
Bake for 15 minutes.
We also advise you to pay attention to the recipe for pumpkin truffles.
Want to receive the most relevant news about the war and events in Ukraine - subscribe to our Telegram channel!