Lifehacks
Hostesses have advised on what needs to be added to sauerkraut to make it crispy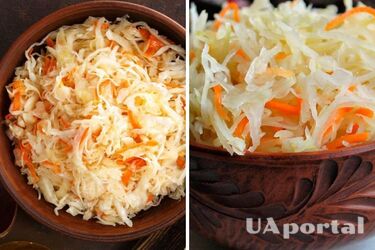 An affordable, healthy, and tasty vegetable, cabbage is ideal for various methods of preservation for the winter. You can use it as a filling for pies or ferment it. However, the main thing is to make the sauerkraut crispy and juicy, avoiding softness.
This is what Tutkatamka writes about.
To achieve a crunch when fermenting cabbage in its juice, it is important to add salt. This helps to preserve the structure of the vegetable. The ideal ratio is 1 tablespoon of salt per 1 kilogram of cabbage. In addition, in the first 2-3 days of fermentation, it is important to dip a wooden stick into the cabbage to remove excess carbon dioxide.
Read also: Three delicious kale recipes you'll want to cook all the time
You will need the following ingredients:
3 kilograms of white cabbage
300 grams of carrots
1 tablespoon of sugar
3 tablespoons of salt
2 sprigs of cloves
2 bay leaves
5-6 allspice peas
And here's a simple way to prepare it:
Peel the top leaves off the cabbage and remove the stem. Finely chop the cabbage.
Salt the cabbage, add sugar, and mix well with your hands. Include the grated carrots and spices, and mix everything thoroughly.
Pack the cabbage in a bowl, put weight on it, and cover it with cheesecloth. Leave it at room temperature for fermentation.
From time to time, remove the foam and dip a wooden stick into the cabbage. After 3-4 days, the fermentation will be over, and then the weight can be removed. The cabbage should be transferred to a cool place for further storage.
As a reminder, we have already written about how to preserve cabbage for the entire winter period.
If you want to get the latest news about the war and events in Ukraine, subscribe to our Telegram channel!