Recipes
Food expert advises how to cook the "perfect steak" in the oven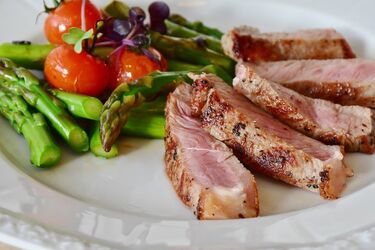 Steak is a favorite dish of many people, but it can be difficult to cook. If you want to get the perfect steak that is juicy and succulent, you need to know how to cook it.
One of the easiest and most reliable ways to cook a steak is to cook it in the oven. This method allows you to cook the steak evenly without drying it out, food expert Ali Rosen told Today.
Read also: Chef reveals the recipe for the "best" crispy fries (video)
Ingredients:
4 ribeye steaks
A teaspoon of salt
Rapeseed or other vegetable oil
Butter (optional)
Instructions:
Take the steaks out of the refrigerator at least 30 minutes before cooking to bring them to room temperature.
Preheat the oven to 120 degrees.
Line a baking sheet with aluminum foil.
Pat the steaks dry to remove any excess moisture and place them on the baking sheet.
Sprinkle both sides with salt.
Put the steaks in the oven on the rack for 15-20 minutes.
Remove the steaks from the oven and turn on the broiler function.
Brush the steaks with a small amount of rapeseed or other vegetable oil.
Place the steaks in the oven as close to the heat rails as possible.
Fry for 3 minutes on each side.
When the steaks are done, they can be served immediately. Add a slice of butter on top.
Ali Rosen noted that for even cooking, you need to use steaks of the same thickness.
If you want a more rare steak, increase the cooking time in the oven.
To make the steak more juicy, let it rest for 5-10 minutes before serving to allow the butter to melt on top.
We also recommend that you pay attention to the recipe for sauerkraut with apples.
If you want to get the latest news about the war and events in Ukraine, subscribe to our Telegram channel!