Society
Experts have shared how to properly water indoor plants and protect them from root rot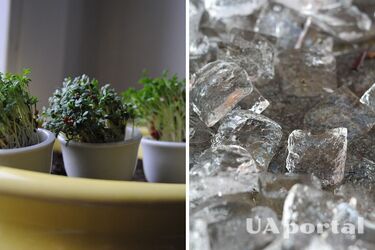 One of the most common mistakes plant owners make is overwatering. This not only creates a path for rot but also damages the delicate roots.
Fortunately, gardening experts say that such problems can be easily avoided by providing the plant with much-needed moisture through ice cubes. This information was reported by Express.co.uk.
Adding a few cubes of ice can provide the right amount of moisture through slow and steady melting. Providing plants with moisture in this way allows the soil ample time to absorb the necessary water.
Read also: Six plants that eliminate all unpleasant odors in the kitchen
Gardeners note that using ice cubes saves time and prevents any water leakage. It is a safe way to prevent excessive moisture by preventing excess water from accumulating around the roots.
To prevent plants from succumbing to any form of disease, it is equally important to take action promptly before the infection becomes fatal.
As a reminder, houseplants can green your space and bring benefits, but they can also be a source of inconvenience and problems. Some of them can attract pests, such as cockroaches.
If you want to get the latest news about the war and events in Ukraine, subscribe to our Telegram channel!