Society
Experts have explained why you should not store cheese in plastic wrap.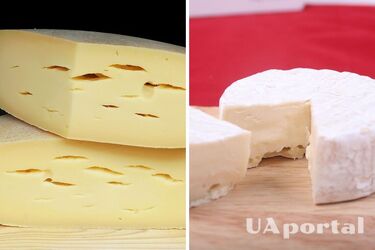 Hard cheese should be stored in the refrigerator. However, experts do not recommend using cling film for packaging.
Hard cheese and soft cheese should be stored differently, and sometimes in different packaging. This is reported by Express.co.uk.
Soft cheese experts recommend storing pre-cut soft cheeses in an airtight plastic box in the refrigerator. Waxed cheese paper allows the cheese to breathe, preventing it from drying out.
Read also: How to protect cheese from mold: the most effective trick
Experts advise avoiding wrapping cheese in cling film or foil. Such packaging will make the cheese sweat and affect the taste.
As for the location of the cheese in the refrigerator, experts recommend storing cheese at the top of the refrigerator door to prevent it from drying out.
Most cheeses come in plastic packaging. Experts advise removing cheeses from the plastic packaging they come in and wrapping them in parchment paper again.
Discover four ways to preserve lemons for a long time so that they don't bloom and are not wasted.
If you want to get the latest news about the war and events in Ukraine, subscribe to our Telegram channel!