Society
Experts explain why you shouldn't wet your toothbrush before applying toothpaste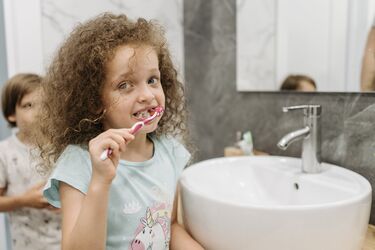 Dentistry experts have explained how to take care of your oral cavity and why the habit of wetting your toothbrush before brushing your teeth can be a bad one.
Experts believe that "dry brushing" can be a more effective way to fight plaque and tartar.
According to a group of dentists, dry brushing can help you better maintain your oral health. This technique, which involves thorough mechanical brushing without wetting the brush, may be more effective in fighting bacteria and plaque.
Read also: How to brush your teeth properly: useful tips that many people don't know about
Studies show that daily brushing is an important part of dental care. To ensure high-quality cleaning, dentists recommend using a dry toothbrush and performing two passes: the first with dry bristles, the second with toothpaste. It is also important to floss and use fluoride rinse to improve oral health and prevent bad breath.
Maintaining good dental health is important from childhood, and learning proper dental care at a young age is an important prerequisite for a healthy smile in the future.
Dr. Jiang, a professor at Harvard University, recommends brushing your teeth twice a day for two minutes, following certain steps. Before or after brushing, it is also important to floss to clean the interdental spaces. This approach helps keep your teeth healthy and avoid negative consequences for your oral cavity.
As a reminder, modern dentistry can make a real Hollywood smile. We have gathered useful information about teeth whitening, the advantages and disadvantages of this procedure.
If you want to get the latest news about the war and events in Ukraine, subscribe to our Telegram channel!