Recipes
For immunity and against illnesses: how to prepare a mega-vitamin sea buckthorn tea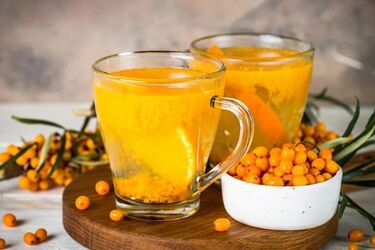 Sea buckthorn is a shrub that grows in temperate climates around the world. Its fruits, leaves, and bark have many beneficial properties, which is why sea buckthorn has been used in folk medicine for centuries.
The benefits of sea buckthorn tea
Sea buckthorn tea is a delicious and healthy drink that can be made from fresh or dried sea buckthorn berries. It contains many vitamins, minerals, and other nutrients that have several positive effects on the human body.
Read also: Eat and lose weight: 16 foods for slimness
Sea buckthorn contains a lot of vitamins C, E, and A, which are powerful antioxidants. They help protect the body from the harmful effects of free radicals, which can lead to the development of various diseases.
Sea buckthorn is also a rich source of vitamin A, which is essential for normal vision. Drinking sea buckthorn tea can help improve skin condition by making it more elastic and moisturized.
Sea buckthorn also has anti-inflammatory properties that can help treat various diseases. Sea buckthorn fruit also contains phenolic compounds that can help lower blood cholesterol levels.
Contraindications
Sea buckthorn tea is safe for most people. However, it should be consumed with caution in people with hypertension, as it can increase blood pressure.
How to make sea buckthorn tea
The publication iamchef.com.ua shared a recipe for sea buckthorn tea.
Ingredients:
Sea buckthorn (fresh or frozen berries) - 5 tbsp;
Grated ginger root - 1-2 tsp;
Cloves - 2-3 pcs.;
Cardamom - 4 pods;
Cinnamon stick - optional;
Honey or sugar - to your taste.
Grind clean sea buckthorn berries and put them in a teapot. Grate the peeled ginger on a fine grater and put it in a saucepan, add the spices and pour a liter of boiling water, leave for 10 minutes. Then pour this solution into a teapot with sea buckthorn berries. Honey can be added to the tea when it has cooled to 40 degrees.
Earlier, doctors told us how to avoid getting the flu and covid.
If you want to get the latest news about the war and events in Ukraine, subscribe to our Telegram channel!